LJP Cyber Classes
An Elegant Springtime project
offered as an encore cyber class...
"PETITE ARABESQUE"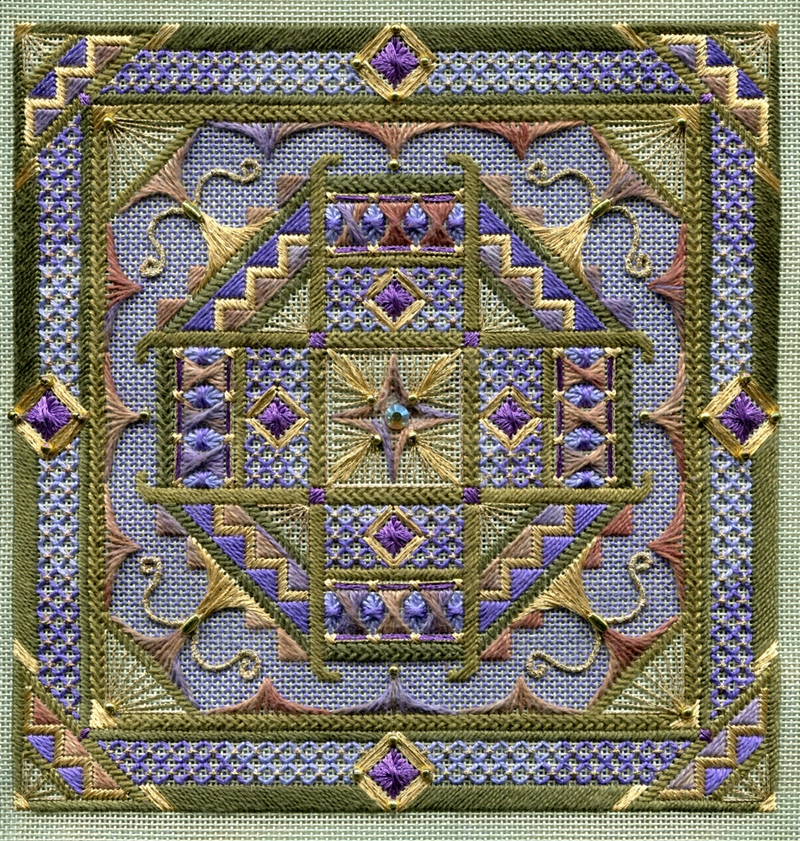 PETITE ARABESQUE is an 8.25" x 8,25" piece that is worked on
18 ct. sage green mono canvas, with a rich assortment of threads that create
an absolutely unique project!
The stitcher has a choice of color palettes --
BLUE, PINK, AQUA, or PURPLE,
as shown below: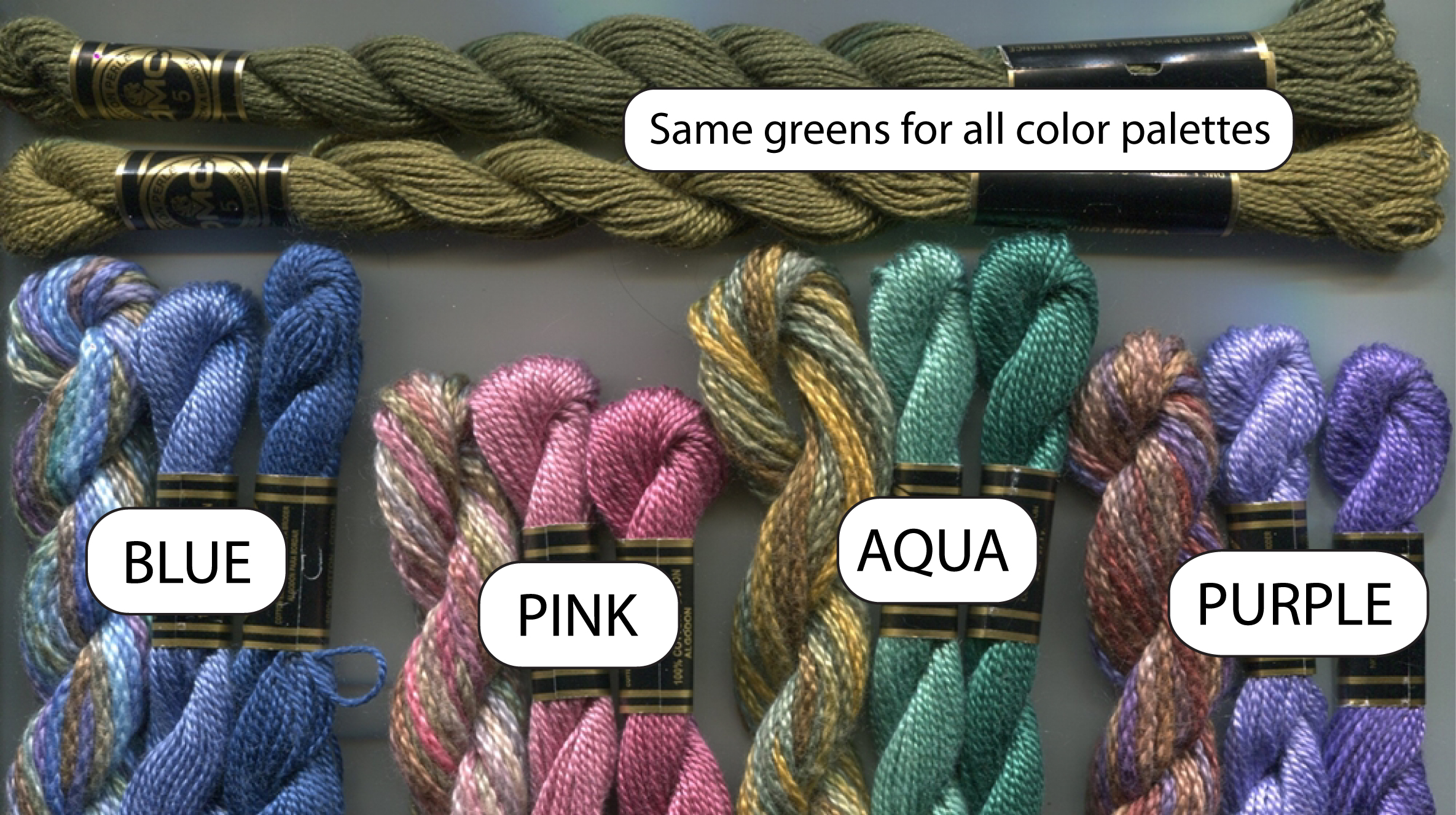 BLUE uses Watercolours 289 - lexi's blues" with DMC #5 blues 312 & 322;
PINK uses Watercolours 020 - "autumn leaves" with DMC #5 pinks 3687 & 3688;
AQUA uses Watercolours 139 - "kelp" with DMC #5 aquas 991 & 992;

PURPLE used Watercolours 016 - "bark" with DMC #5 blue violets 333 & 340.

This class will have four emailed lessons that cover creating your piece
in a step-by-step manner, working the various borders with their intricate details,
then filling them in with stitch patterns that are not particularly difficult -
except maybe for the fiddly counting - but all in all, this piece is

very fun and interesting to work!

a thread palette of variegated Watercolours, solid color #5 pearl cottons, DMC floss, & rayon ribbons;

a 12" x 12" piece of 18 ct. mono canvas in santa fe sage green;

gold beads, wire trim and a Swarovski crystal;

#22 and 24 tapestry needles; and


a pattern with full textual instructions and color stitch diagrams.
The kit DOES NOT INCLUDE the needed 12" x 12" stretcher bars or scroll bars.

Full Kit Price (excludes postage): $96.00
Pattern Only (excludes postage): 30.00

REGISTRATION PERIOD: April 18th - May 31, 2022

KITS SENT OUT: Mid-June? (or whenever all threads arrive)

CYBER CLASS STARTS: End of June 2022, depending on kit arrival!

CLASS INFORMATION: The class will have four lessons, sent out every other week,
with extra stitching information, color & design discussions, and up-close photos of the stitches

you'll be creating. I rate this as an intermediate - to - advanced project...
LJP CYBER CLASS REGISTRATION FORM
To pay with a check please print, fill out this form, and send with your payment to:
Laura J. Perin Designs
112 Wisteria Circle
Cloverdale, CA 95425
CLASS: "PETITE ARABESQUE"

DATE: ____________
REGISTRATION is April 18 - May 31, 2022

NAME: __________________________________________
ADDRESS: __________________________________________
__________________________________________
__________________________________________
TELEPHONE #: ______________________________________
EMAIL ADDRESS: ____________________________________
FULL KIT (threads, canvas, pattern, elessons): $96.00 _________
PATTERN ONLY (includes elessons): $30.00 _________

KIT POSTAGE (U.S. Priority):
U.S.A. $12.00 _________
CANADA: $20.00 _________
(Not available for any other countries)
PATTERN ONLY POSTAGE - U.S.: $3.00 _________
PATTERN ONLY POSTAGE - CANADA: $10.00 _________
TOTAL:
______________
~ ~ ~ ~ ~ ~ ~ ~ ~ ~ ~ ~ ~ ~ ~ ~ ~ ~ ~ ~ ~ ~ ~ ~ ~ ~ ~ ~ ~ ~

I accept Credit Cards, so call me if that's the way you want to pay;

also, I recommend using your credit card through
PAYPAL (which is one of their options)
FOR U.S. PAYPAL ORDERS:
To pay for the PETITE ARABESQUE kit, please click box below:
To pay for the PETITE ARABESQUE Pattern Only, please click box below:
FOR CANADIAN PAYPAL ORDERS:
To pay for the PETITE ARABESQUE kit, please click box below:
To pay for the PETITE ARABESQUE Pattern Only, please click box below: