LJP Cyber Classes
Something different for the New Year...
"CARVED ANIMAL COLLAGE"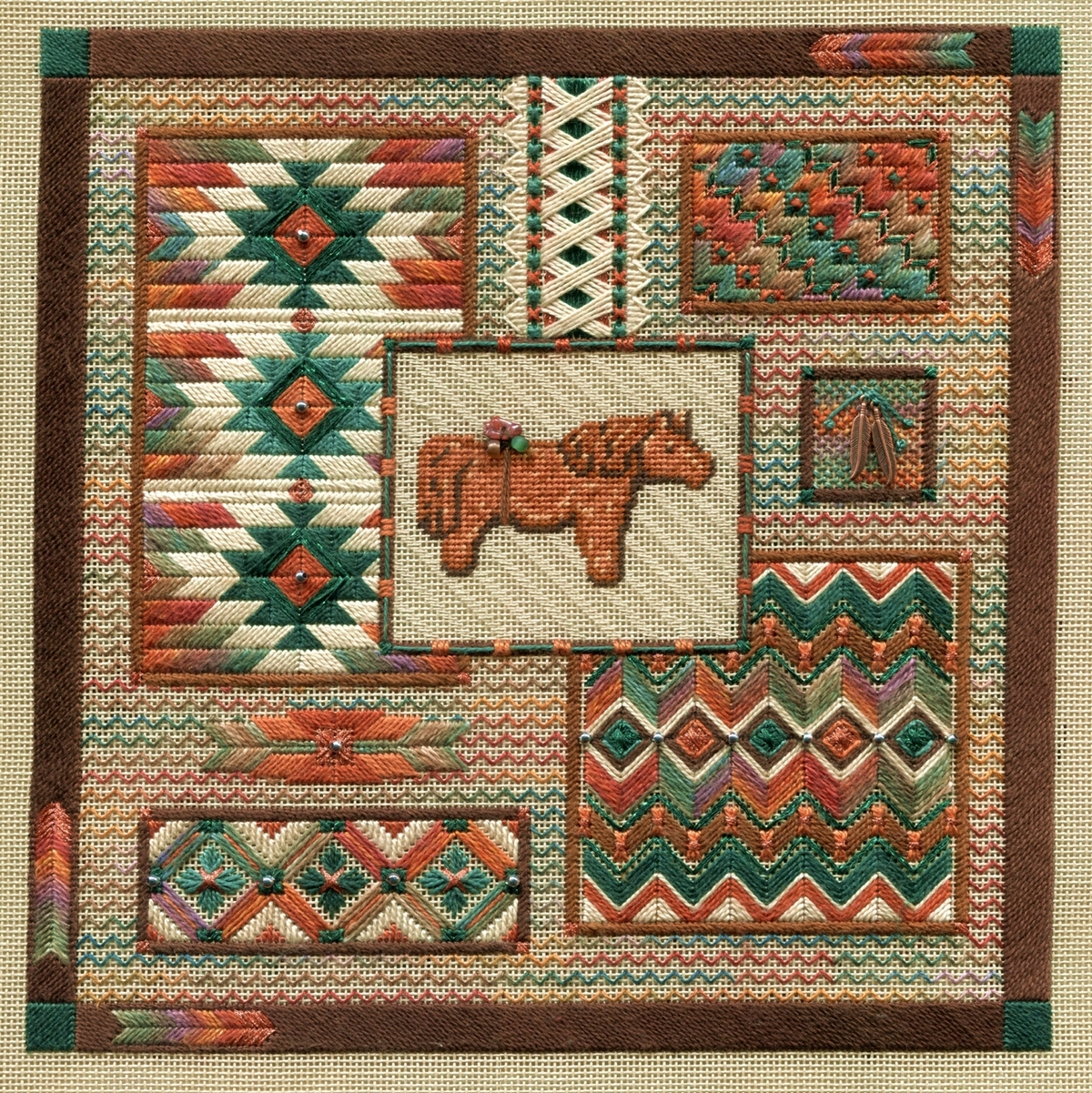 CARVED ANIMAL COLLAGE is a 9.5" x 9.5" Western collage design

done on 18 ct. sandstone canvas with a handful of vintage rustic colors.
This class is offered in two different colorways:

TEAL (shown above) and BLUE (detail shown below).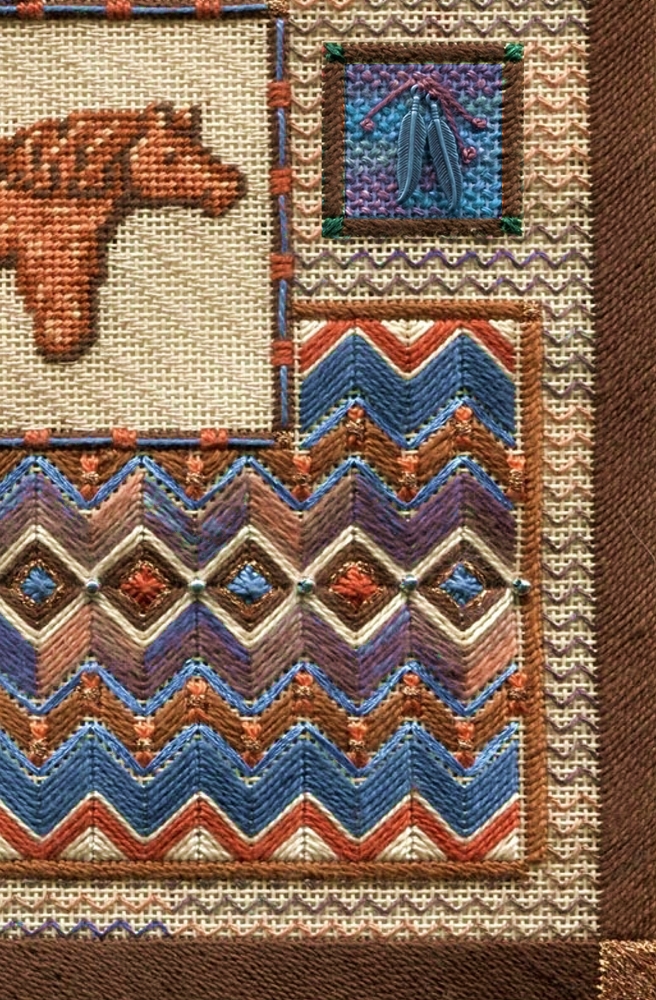 And to make each piece unique, the stitcher gets to choose which animal they want to stitch
in their center box: HORSE, BEAR or WOLF: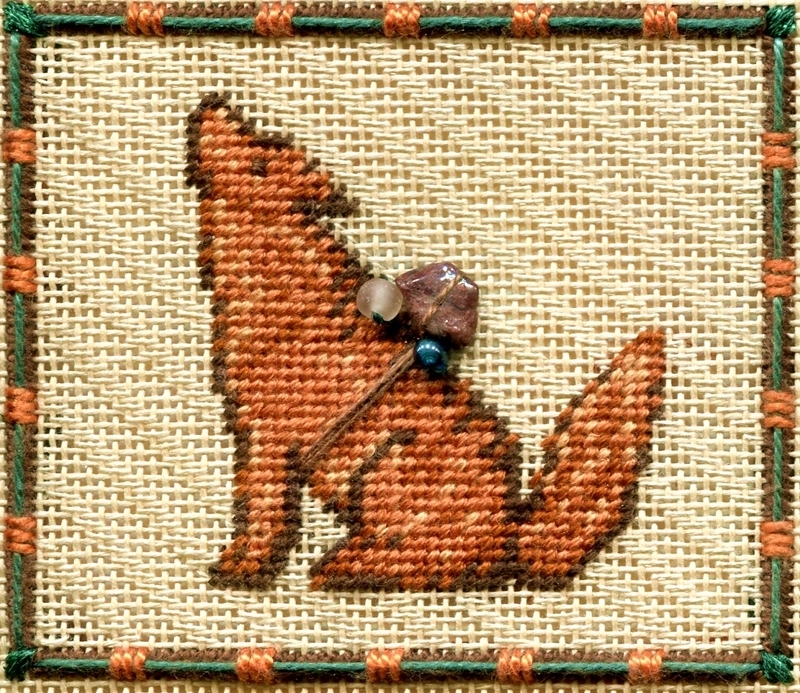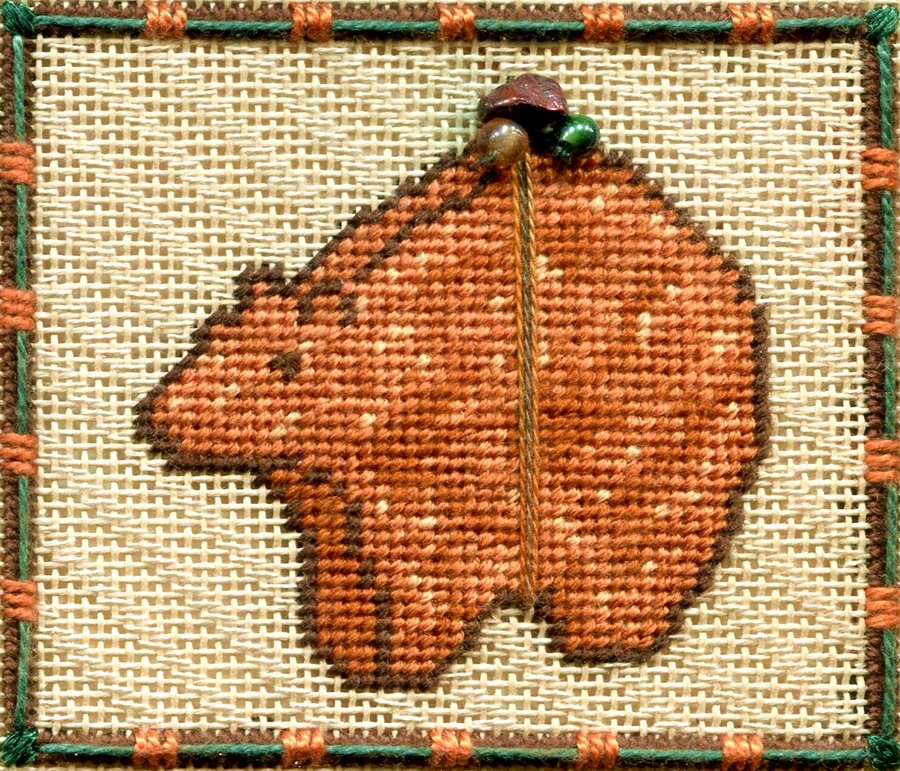 Both colorways are built around a luscious variegated Watercolours & Wildflower thread
(010 - "Fiesta" or 260 - "Sticks & Stones)

partnered with solid color #5 pearl cottons, as well as two
metallic ribbon colors and a handful of DMC floss for the carved animal.
Silver beads, stones and feather charms are part of the finishing embellishments....

This class will have four emailed lessons that cover creating your piece
in a step-by-step manner, working the various boxes
then filling them in with stitch patterns that are not difficult - just

very fun and interesting to work!

a thread palette of variegated Watercolours & Wildflowers, solid color #5 pearl cottons, DMC floss, & rayon ribbons;

a 13" x 13" piece of 18 ct. mono canvas in sandstone;

stones, beads and copper charms;

#22 and 24 tapestry needles; and


a pattern with full textual instructions and color stitch diagrams.
The kit DOES NOT INCLUDE the needed 13" x 13" stretcher bars or scroll bars.

Full Kit Price (excludes postage): $92.00
Pattern Only (excludes postage): 30.00

REGISTRATION PERIOD: December 10th, 2021 - January 30th, 2022

KITS SENT OUT: Mid-February? (or whenever all threads arrive)

CYBER CLASS STARTS: End of February, depending on kit arrival!

CLASS INFORMATION: The class will have four lessons, sent out every week,
with extra stitching information, color & design discussions, and up-close photos of the stitches

you'll be creating. I rate this as an advanced beginner-to-intermediate project...
LJP CYBER CLASS REGISTRATION FORM
To pay with a check please print, fill out this form, and send with your payment to:
Laura J. Perin Designs
112 Wisteria Circle
Cloverdale, CA 95425
CLASS: "CARVED ANIMAL COLLAGE"

DATE: ____________
REGISTRATION is December 10th 2021 thru January 30th, 2022

NAME: __________________________________________
ADDRESS: __________________________________________
__________________________________________
__________________________________________
TELEPHONE #: ______________________________________
EMAIL ADDRESS: ____________________________________
FULL KIT (threads, canvas, pattern, elessons): $92.00 _________
PATTERN ONLY (includes elessons): $30.00 _________

KIT POSTAGE (U.S. Priority):
U.S.A. $12.00 _________
CANADA: $20.00 _________
(Not available for any other countries)
PATTERN ONLY POSTAGE - U.S.: $3.00 _________
PATTERN ONLY POSTAGE - CANADA: $10.00 _________
TOTAL:
______________
~ ~ ~ ~ ~ ~ ~ ~ ~ ~ ~ ~ ~ ~ ~ ~ ~ ~ ~ ~ ~ ~ ~ ~ ~ ~ ~ ~ ~ ~

I accept Credit Cards, so call me if that's the way you want to pay;

also, I recommend using your credit card through
PAYPAL (which is one of their options)
FOR U.S. PAYPAL ORDERS:
To pay for the CARVED ANIMAL kit, please click box below:
To pay for the CARVED ANIMAL Pattern Only, please click box below:
FOR CANADIAN PAYPAL ORDERS:
To pay for the CARVED ANIMAL kit, please click box below:
To pay for the CARVED ANIMAL Pattern Only, please click box below: